Here's another pointy, sharp object that I adore (and carry daily!).
It's a Camillus Quickdraw boot knife. Camillus just closed down its operations and is liquidating its stock since last year, I believe. Therefore, I decided to grab one of these while I still had a chance.
This knife comes with a Kydex sheath, but, being a factory-molded sheath the retention was terrible. So I have to warn you--if you buy this knife, you're probably going to want to have a custom sheath made for it like I did. Try Philthy on the USN. He's great. Or Lifter, if you prefer a leather product. (
www.liftersleather.com
). But in any case, make sure that you're comfortable with the sheath features and retention.
This knife is rather thin-bladed and very lightweight. It is nothing compared to a custom job, but I do not have the money for a custom knife at the moment and wanted a knife that I could use for SD if I had to, without fearing to lose it forever to the forensics guys at the local police station. (People who kill or even maim an attacker in self defense rarely get their weapons back from their local PD). It comes in two sizes, medium and large (I have the medium-sized model) and is coated in a matte-black non-glare finish.
PROS:
It's lightweight.

It's made of Stainless steel.

It's double edged (in some states this is not legal, check your local laws before buying).

It's compact, but with enough gusto to gut a garrulous, garbage-picking crackhead.

It's CHEAP. I may have paid 30 or 40 dollars for this, tops. Add in 30.00 for the custom sheath and it comes out to 70.00 max. Not something you'd cry over losing (well, I would but most wouldn't).

CONS:
The blade is thin--very thin. Don't attempt to throw this knife at a tree or stab through a 50-gallon drum. You'll snap it in two, full-tang though it is. It won't survive.

It's non-Sheeple friendly, (non-PC). It's a weapon--nothing more, nothing less. There's nothing "pretty" about it; this is a mean-looking knife. It's made for tasting flesh--nothing else. If you live in a state where double-edgers are illegal, there's nothing stopping a police officer from citing you for having it or simply confiscating it. And you won't convince him that it's a utility knife--he will know better. A knife that you no longer own will do you no good in a mugging or raping. You've been warned.
The sheath is crap--no lie. The boot/belt clip is a good thick hunk of steel and the Kydex is pretty thick, but otherwise it just sucks. It's not a sheath that I'd rely on to stay where I put it. Plus, it has only one grommet/eyelet for lashing/rigging with a Mercharness.

Repeat number two.

Repeat number three.
Here's some fotos:
Here it is sheathed, with my homemade adaptation of the Mercleash (for IWB carry).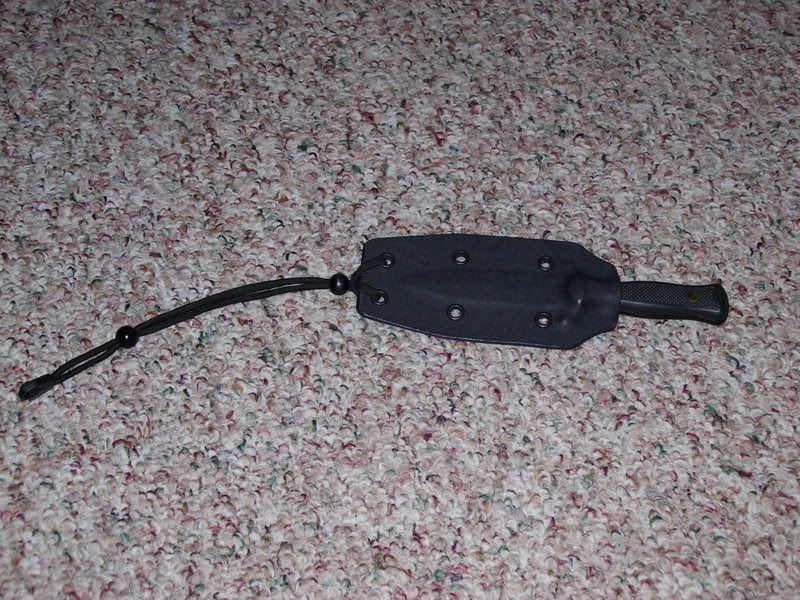 The blade is bared!
The edge is scary-sharp, especially after I honed it recently. I never use it for utility purposes, so it never dulls. It'll be there when I need it. See how it pushed through the foam? I only used light finger pressure and it sank right in.
And with a bit more pressure, into the corner wallboards.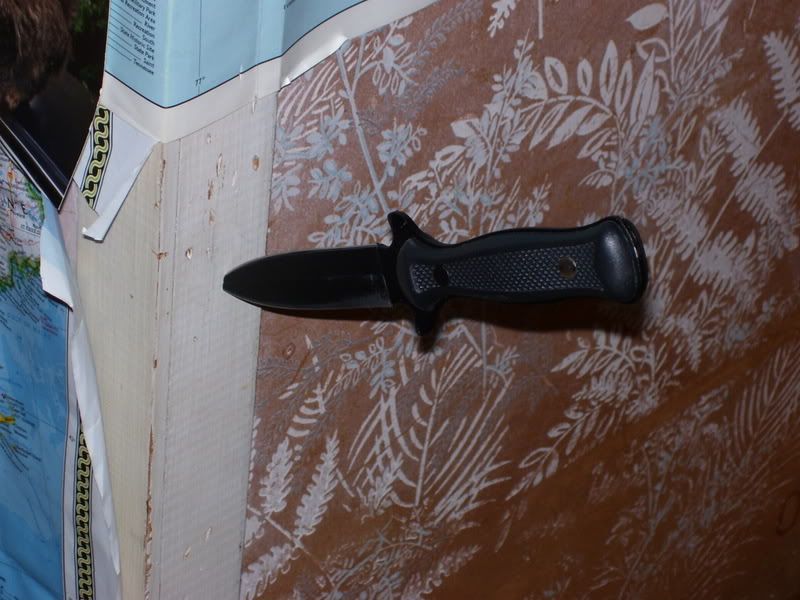 Icepick grip,
And Reverse grip.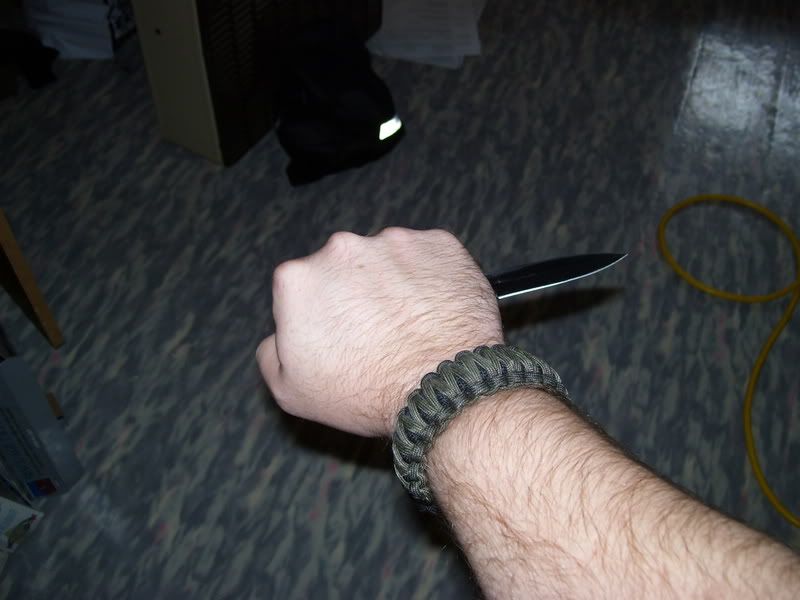 SPECS:
OAL: 7.0"
BL: 3.125"
Materials: SS matte-coated blade, Valox handle scales, Full-Tang construction. Comes with multi-position Kydex sheath with removeable belt/boot clip.
Price: Anywhere from 25.00 to 45.00 USD, depending on seller.
Berserker's Overall Rating: 4.0 Stars out of Five.
I endorse this product as an affordable, yet efficient edged SD tool, when accompanied by a custom-molded Kydex sheath to fit.
PMZ