While home on Break I was able to use a gift certificate given me by my cousin in law for Christmas at the Army Navy Store in Whitehall. I knew a good pair of BDUs were in order, and that I needed batteries so that's what I ended up with.
I walked in and the store has changed so much even since my last visit that I wasn't sure where to go for pants. So I ended up wandering around till I found it--a lone, 5 by 5 shelf of BDU pants. They were all 5.11s, and though I'd never worn that brand before I thought I'd try it out. I managed to find a pair of OD green pants (pictured below) and they came w/kneepads and all sorts of cool features like 5.11's proprietary BBS (backup-belt system) which consists of velcro-lined cargo pockets that you can stick velcro-backed holsters, pouches etc. to. They were on special or closeout or whatever so they only cost around 39 or 40.00 rather than the standard 45 or 50.00. They're extremely comfortable and surprisingly durable, with triple-stitching and bar tacking along major seams and stress points. Pockets are secured by velcro strips for quick and easy access to gear inside.
Below is a pic of the standard features...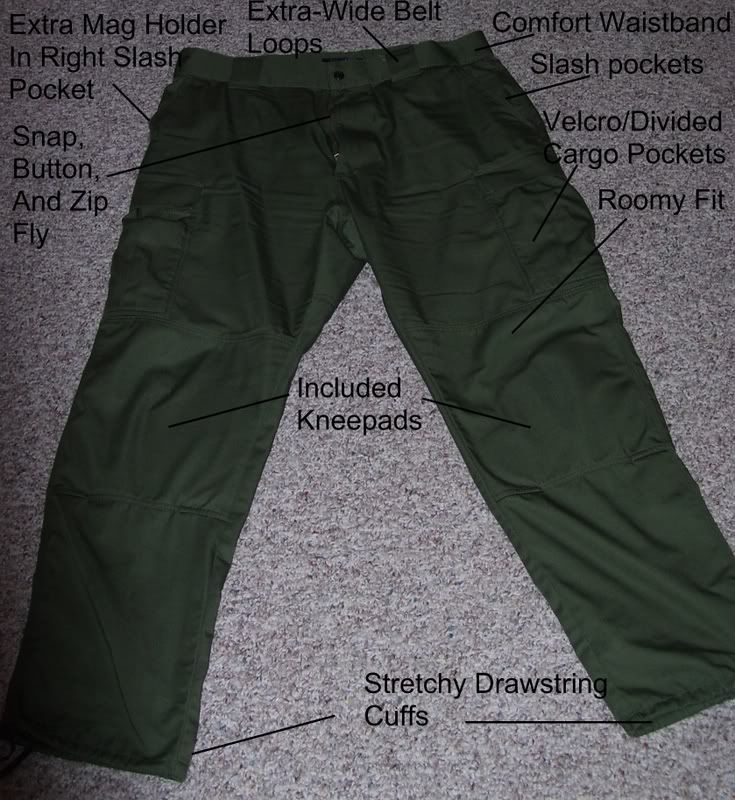 Manufacturer's Product Page:
http://www.511tactical.com/511-tdu-pant-twill-74004.html
Cost: Depends on where and when you get them. I got mine for around 40.00. MSRP of 49.99.
Berserker's Overall Rating: 5 Stars! These are some of the most comfortable pants I've worn in ages. Much, much better than my old Rothcos.
PMZ