Recently I purchased a Buck/Strider/Tarani collaborative folder. It's heavily based off of the Strider SmF. Strider knives are known as some of the most badass, hard-use knives on earth, so when Buck decided they wanted to do a collab with Strider they must've been swallowing their hearts at the thought of how much quality detail had to go into this folder.
There are several variations on this knife. The first few, it is said, were of much better quality than the latest, but even the latest is a very sturdy, quality knife with only a few issues. Here's some pros and cons:
PROS:
Sturdy. This knife is one of the best in its class, even in its later incarnations. Heavy rugged construction should not fail you under even the heaviest of useage.
Thick cross-section. The geometry on this thing is incredible, even for a knife with an MSRP of little over $100.00.
ATS-34 steel blade will not let you down and will hold its factory edge (comes shaving sharp) for a long time. Heat Treating is overseen by Paul Bos, as indicated by the stamp on the right side of the blade.
Bronze-phosphor or Copper washers at pivot point will become buttery smooth after a few years of normal use, and will last practically forever, unlike Teflon which often wears away more quickly.
G10 or TACCOM (glass-reinforced composite) scales are thick, roughly textured for grippiness, and nearly indestructible.

Clip can be positioned tip-up on either side, and comes with three extra screws already in the other scale for if you lose or strip the other ones.
Texturing on upper half of blade makes it easier to open knife while wearing gloves.
Has lanyard hole in one scale.
CONS:
My biggest bone with the latest versions of this knife is that the scales and frame are riveted together rather than put together with Torx screws like the older models. I suppose if I really wanted to I could get somebody to pimp it for me, but I don't think it's worth it. I'd be afraid of the thing popping apart ever after so I don't worry about it. Just be aware that for the most part, it's not feasible to dismantle it for maintenance or pimping.
ATS-34 steel is indeed good stuff, but the older models had an even better type (in many peoples' estimation)--BG-42. I don't mind this but some of you who are purists might. Just a thought.
Newer models don't have the G10 scales, they have what Buck terms "TACCOM" or Tactical Composite Material, which is partly plastic and partly glass fiber, with a very bumpy and grippy checkering. This is fine by me since I got mine for less than half off but for those of you who would have to pay full price, it would be a sore point most likely.
A pic (it's very stabby):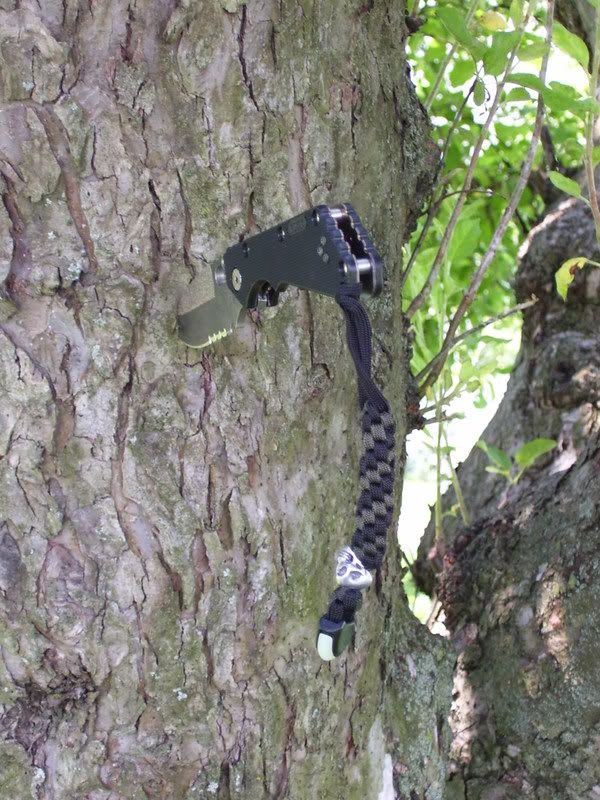 BL: Approx. 3.75"
HL: Approx. 5"
OAL: 8.25"
Steel: ATS-34.
HT: Paul Bos, Rockwell 60/61.
Handle Material: G10/TACCOM (depending on model).
Construction type: Torx/Riveted (depending on model).
MFG: Buck Knives, Strider/Tarani Design.
Price: MSRP approx. $109.00. Got mine from the Cabelas Bargain Cave for only $50.00 shipped!
Berserker's Overall Rating: 5 Stars! This one (like all production tools) has a few flaws but it will be a permanent addition to my EDC.
Go get one! You know you want to...
PMZ